The COLC will be working with CaNOE, Ocean Networks Canada, Ocean Wise, Oceans Week Halifax, and other collaborators to help organize and coordinate ocean day/week events across Canada from coast to coast to coast in June 2020. Coming soon: a dedicated Ocean Week Canada 2020 website!
For a little inspiration now, visit: Oceans Week Halifax and World Oceans Day International. To learn more about Canada's role in World Oceans Day, read on.
What is World Oceans Day?
(Repurposed post – with permission – from Ocean Networks Canada)
Did you know, Canada initiated World Oceans Day 25 years ago?
In 1992 the Ocean Institute of Canada and the International Centre for Ocean Development proposed the concept of a World Oceans Day at the Earth Summit in Rio de Janeiro. Since it was officially endorsed by the United Nations—June 8, World Oceans Day—has evolved into a growing annual celebration of our global ocean. The 25th anniversary of World Oceans Day is an opportunity to look in the rear-view mirror to see how far we've come and to consider our future, which depends on the health of the great salty engine that drives and supports life on Earth.
Why did Canada propose World Oceans Day in 1992?
A country surrounded by three oceans and the longest coastline in the world—202,080 kilometres—Canada responded to a call to action issued by the Brundtland Report "Our Common Future" published five years earlier in 1987. This groundbreaking document defined the term "sustainable development" and identified the need for global cooperation to mitigate the growing threats to the global ocean.
Over the last 25 years, Canada has continued to be a world leader in ocean observation, investing in innovation to understand and manage the vast frontier beneath the surface. In 2006, Ocean Networks Canada (ONC) became the world's first interactive ocean portal with Internet connected observatories providing real-time deep sea and coastal data from all three coasts. And in 2016, the Government of Canada invested $1.5 billion to implement an ambitious Oceans Protection Plan, a world-leading marine safety system that will protect Canada's coasts for generations to come.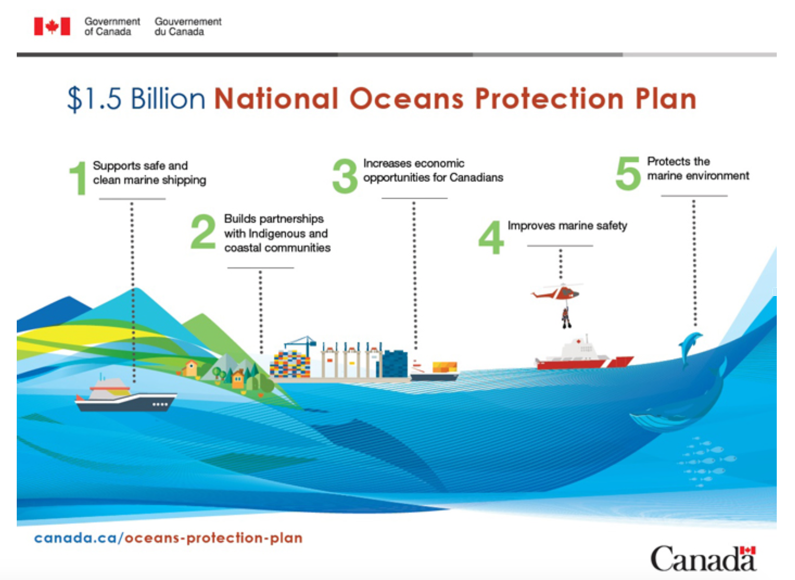 Why celebrate World Oceans Day on June 8th?
Simply put, life on Earth depends on the ocean because it:
Generates over 50% of the oxygen we breathe

Feeds billions of people annually: one in five people globally depend upon protein from the ocean

Regulates our climate

Moves 90% of the world economy

Employs millions of workers

Generates trillions of dollars in the world economy

Provides medicines that heal us, such as antibiotics from corals and sponges

Whether at play or work, it inspires and rejuvenates us!