The COLC is mapping ocean literacy strengths, gaps, and barriers across Canada. This approach is focused on identifying regional assets such as programs, initiatives, networks, resources, and funding opportunities. Mapping these assets allows us to better understand the connections or gaps in ocean literacy in Canada. This collaborative process promotes knowledge sharing, community involvement, and partnerships. It also reflects and enhances the unique and emerging ocean literacy activities within and across Canada's diverse sectors and communities.
There are many ways for you and your organization to be involved in this process!
We welcome you to:
Share any regional ocean-related policies, reports, strategies, or other pertinent documentation or media to your regional coordinator to review.
Participate in the ocean literacy mapping process in your region, through an OL mapping survey, interview, and/or focus group/sharing circle.

Host or support a focus group/sharing circle or identify any upcoming ocean-related events/opportunities in which a focus group/sharing circle opportunity might align well.
Understanding Ocean Literacy in Canada
We are examining ocean literacy through three central dimensions—ocean knowledge, ocean values, and ocean actions (e.g., behaviours; stewardship). We are engaging with Canadians across five diverse regions—Atlantic, Inuit Nunangat, Pacific, St. Lawrence, and inland Canada. Regional recommendations and effective practices mapped through this work will be summarized and included in Canada's Ocean Literacy Strategy.
Our research is guided by three questions:
What is the current state of ocean literacy in Canada?

What are the current gaps, barriers, and enablers to ocean literacy in Canada?

What are the key recommendations to advance a national strategy for ocean literacy?
Five regional coordinators will be working with the national coordinator to answer these questions. The COLC's research team will gain a better understanding of how ocean literacy is perceived across the five different regions and its relevance across the nine different sectors identified below.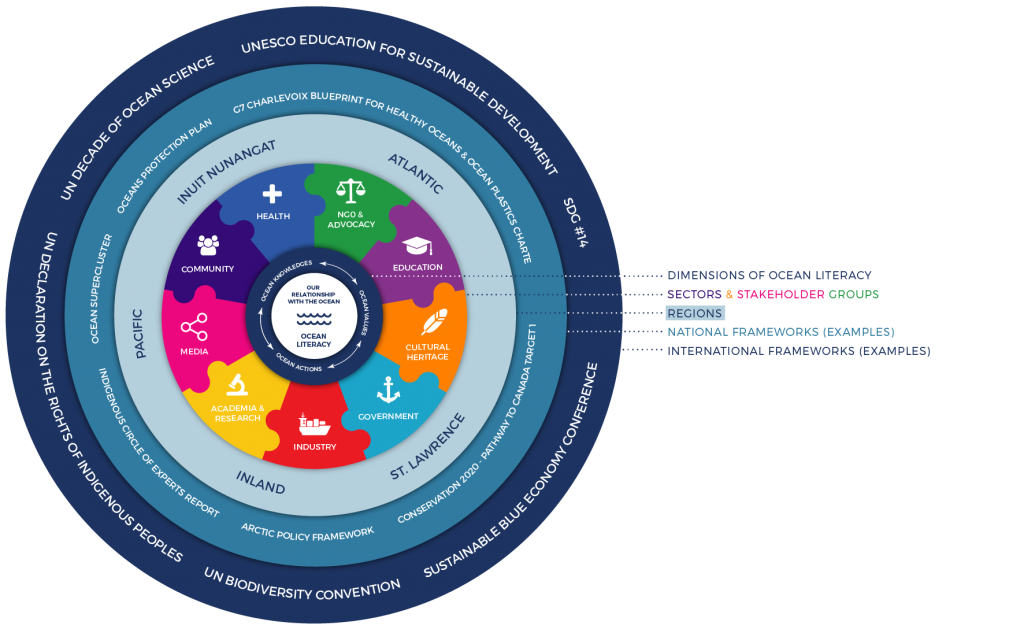 Mapping Canada's Ocean Knowledge, Values, and Actions
From June 2019 to May 2020, our regional coordinators will:
Conduct a focused document review of existing regional and provincial/territorial ocean-related policies, reports, strategies, and other publicly available documents.

Develop regional ocean literacy maps through document scans, OL mapping survey, interviews, and focus groups/sharing circles. This work will identify knowledge,

activities, and practices across diverse regions and sectors, as well as which audiences are being reached (and which are being missed).

Conduct a gaps and opportunities analysis for ocean literacy in each region, as well as look for barriers and motivations to ocean-positive behaviours.
In May 2020 the regional coordinators will submit their reports to the national coordinator. The five regional reports will be used to inform Canada's Ocean Literacy Strategy.