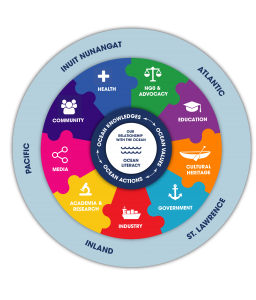 COLC's Understanding Ocean Literacy in Canada study is a ground-breaking national project conducted by a team of early career researchers, graduate students, and diverse organizational and university partners. This study established a baseline seascape of ocean literacy (OL) in Canada and its results are informing the co-development of a national OL strategy by December 2020.
The study examined OL across five regions (Pacific, Inuit Nunangat, Atlantic, St. Lawrence, and Inland Canada), and within nine sectors (Education and Youth, Government, NGO and Advocacy, Academia and Research, Industry, Community, Media, Cultural Heritage, and Health). Data was collected between September 2019 and March 2020 from participants whose work (1) advances ocean knowledge, (2) strengthens ocean values, and/or (3) implements ocean actions.
Over 3,000 Canadians and more than 400 organizations participated and a total of 18 research reports were created. The results were presented at COLC's Virtual Workshops on June 22-23, 2020, providing an opportunity for the more than 220 participants to discuss the study findings and offer insights into how best to continue efforts to co-develop a national strategy.
Click on the boxes below to consult the national and regional research reports or to access the recordings, presentation slides, and summary reports from the virtual workshop sessions.