Learn more about the Canadian Ocean Literacy Coalition
The Canadian Ocean Literacy Coalition (COLC) is an alliance of organizations, networks, institutions, communities, and individuals working together to better understand and advance ocean literacy in Canada.
COLC grew out of a small 40-person informal consultation (February-March, 2018) and a national workshop, Towards a Canadian Ocean Literacy Strategy: A preliminary dialogue and forward planning workshop, as part of the Ocean Research in Canada Alliance (ORCA) Conference in April 2018. These events led to the creation of the report, A Development Plan: Building a National Ocean Literacy Strategy in June 2018. This initial project was instigated by Ocean School/Ocean Frontier Institute and Ingenium, with funding support from Fisheries and Oceans Canada.  The project was further supported by an informal national steering committee composed of representatives from the Canadian Museum of Nature, Canadian Network for Ocean Education (CaNOE), Ocean Networks Canada, Ocean Wise, and the Students on Ice Foundation. 
COLC formally launched on September 20th, 2018, in Halifax, Nova Scotia, at the Oceans Inspiration Expo, which was held as part of the G7 Ministerial Meeting on Working Together on Climate Change, Oceans, and Clean Energy.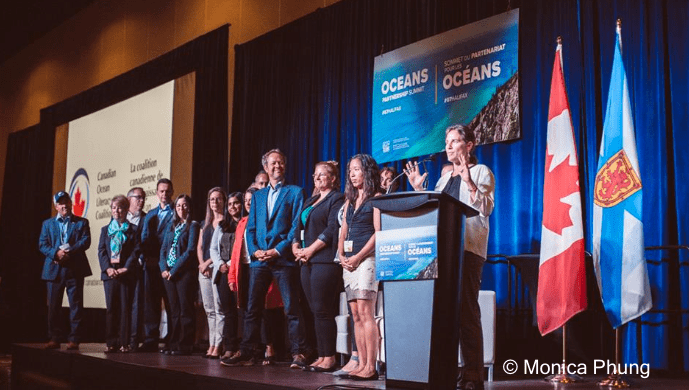 COLC has functioned as an independent national project office with an administrative home first at the Canadian Museum of Nature, now at Ocean Networks Canada. Serving as a neutral convening entity across regions and sectors in Canada, COLC's initial project was to lead a Canada-wide research initiative to better understand Canadians' varying relationships with the ocean and to examine how ocean literacy is understood and practiced across the country.
In June 2020, COLC published the final regional and national reports of the Understanding Ocean Literacy in Canada study, establishing the first research baseline of ocean literacy in Canada. Findings from this study directly informed the co-development of Land, Water, Ocean, Us: A Canadian Ocean Literacy Strategy and the accompanying Implementation Plan: Pathways for Collaboration (published in March 2021), making Canada the first country in the world with a national ocean literacy strategy.
As of April 2021, COLC continues to operate as an independent national project office with an administrative home at Ocean Networks Canada at the University of Victoria.
National Study Participants
COLC serves as a national convening entity to achieve the following community-established mandate
We coordinate collaboration across regions, sectors, and scales to advance ocean literacy in Canada
We oversee National Strategy implementation and impact evaluation
We advocate for local organizations and communities at a national level
We serve as a hub for ocean literacy research in Canada
We lead and support Canada's contributions to international ocean literacy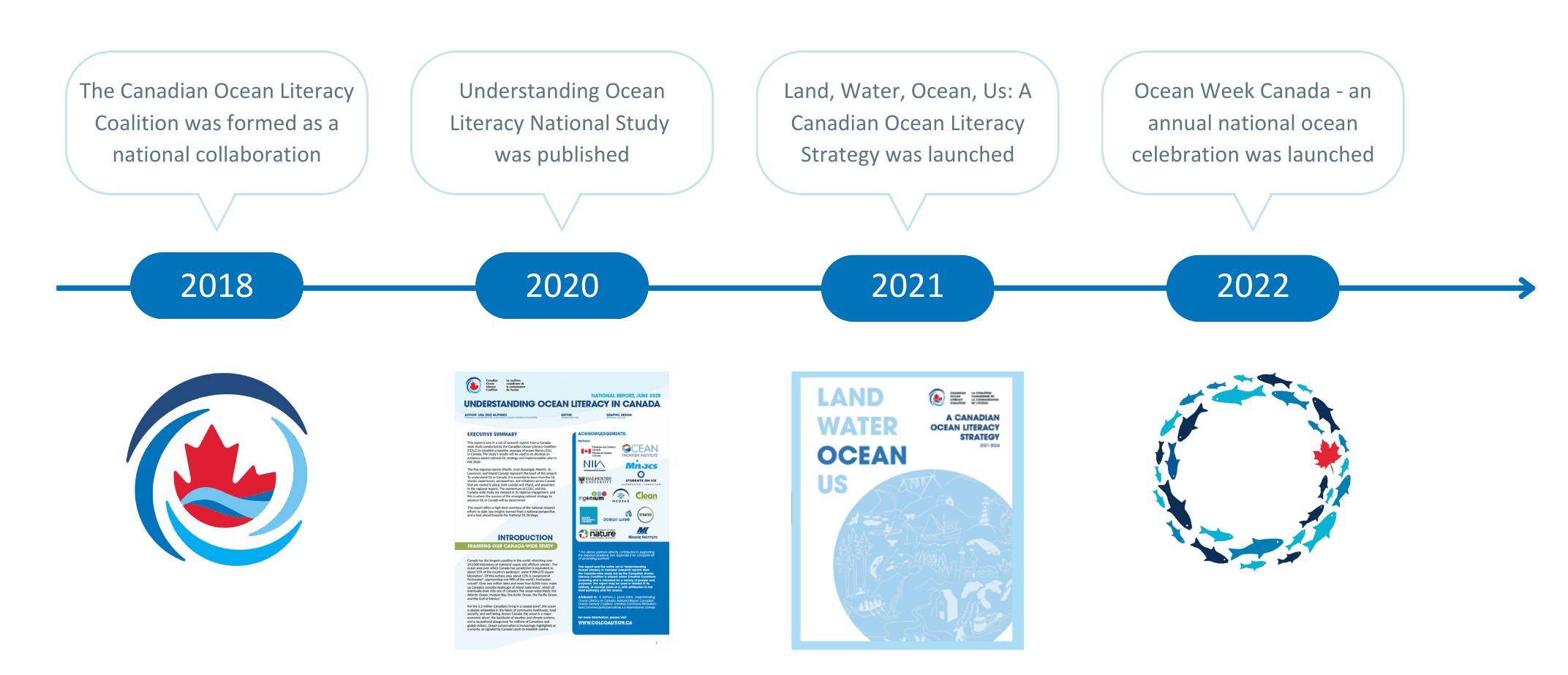 National Project Office Staff
Lisa (Diz) Glithero
National Lead
Meghan Callon
Communications & Design Lead
JD Williams
Learning & Engagement Lead
Admin & Operations Coordinator
Currently in hiring process
Research Coordinator
Currently in hiring process
 Communications Intern (Summer)
Samyuktha Vasudevan
Current Term: July 2021-June 2023
Dany Dumont, Université du Québec à Rimouski, Réseau Québec Maritime, ISMER (QC)
Darren Porter, Commercial Fisheries/Ocean Contractor (NS)
Diz Glithero, Canadian Ocean Literacy Coalition (QC)

Janet Stalker, Consultant (NS)

Jasveen Brar, Youth Climate Lab (AB)

Kathy Brown, 

Co-owner, Seequest Development (BC)
Sandy Bligh, Ocean Networks Canada (BC)
Marie-Chantal Ross, National Research Council of Canada (ON)
Stephen Virc, Fisheries and Oceans Canada (ON) 
National Circle of Advisors
Current Term: July 2021-June 2023
Anton Holland, NIVA Inc.
Dana Albright Murchison, Canadian Museum of Nature
Geoff Green, Students on Ice Foundation
Mark Mattson, Swim Drink Fish Canada
Michael van Aanhout, Stratos Inc.
Susanna Fuller, Oceans North
Tom Paddon, Consultant
Wendy Watson-Wright, Consultant
At the time of COLC's launch, the original logo was developed with four blue arcs encircling a red maple leaf. These blue arcs represent Canada's three ocean coastlines – Atlantic, Arctic, Pacific – as well as the extensive 'inland' coastline stretching along the Great Lakes and St. Lawrence River. The largest arc at the top of the logo represents the Arctic coastline, which accounts for 50% of Canada's coastline overall.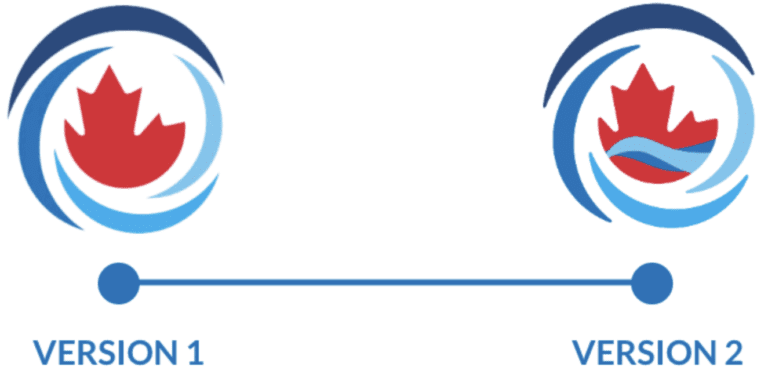 As of the National Strategy launch in 2021, COLC's logo appears with a braided stream of blue running through the centre of the maple leaf. This addition is in recognition of the complex, interconnected freshwater systems that form the heart of inland Canada, and through which every Canadian, regardless of where they live, is connected to the ocean.
COLC is comprised of NGO, government, academic, industry, philanthropic, and community organizations. Our funding reflects this diversity.
Phase 1 Funding
(National Study & Strategy – September 2018 to March 2021)
Phase 2 Funding
(Initial Strategy Implementation – April 2021 to March 2024)