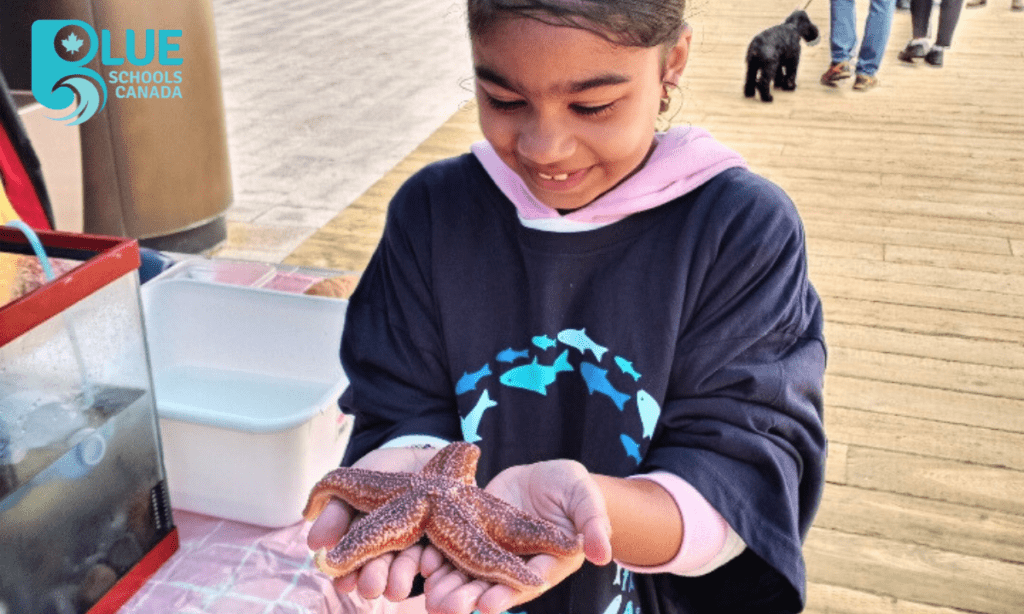 What is Blue Schools Canada?
Blue Schools Canada serves as the Canadian node within the All-Atlantic Blue Schools Network (AA-BSN), a global initiative launched in 2021 that connects schools located in countries along the Atlantic Ocean. 
This program is designed to involve students in enriching learning experiences that enhance their understanding of the global ocean and freshwater ecosystems, raise awareness about ocean-climate issues, and involve local community initiatives that inspire action.
The AA-BSN initiative is a joint action of the All Atlantic Ocean Research & Innovation Alliance.
COLC's National Lead, Diz Glithero, serves on the AA-BSN Governance Board. Press play to see a video message from Diz.
About Blue Schools Canada
All schools, from coast to coast to coast, and inland are eligible to be a Blue School.  Individual teachers and their classes can join or entire schools. 
COLC, together with our partner team, coordinates the Blue Schools Canada program, supporting schools – public and private, as well as alternative education programs (e.g., homeschooling, Forest Schools) across Canada.
Blue Schools Canada (BSC) engages classrooms in local community efforts and global conversations that inspire action to ensure a healthy ocean and all waterways leading to it.  Students, educators, school leaders, and community members, become part of a community of practice, both in Canada and globally, with access to live events, intercultural opportunities, latest resources, and a diverse team of ocean and freshwater specialists. 
At Blue Schools Canada, our members are part of a diverse ocean education community that offers comprehensive support. Here's how we work together:
Curriculum Integration
Our team of ocean education experts collaborate with educators to seamlessly incorporate locally relevant ocean and freshwater themes into every grade level and subject within K-12 education. This integration ensures that students are knowledgeable and deeply connected to the waters that shape our world.


Inclusive Learning Environments
We foster inclusive and collaborative learning spaces celebrating diverse perspectives and knowledge systems, enriching the educational experience. By embracing different viewpoints, we promote intercultural friendships and create opportunities for participatory action.
Solving Real-World Challenges
Blue Schools encourages students to apply their knowledge and skills to investigate and design innovative solutions for issues related to the ocean, watersheds, and freshwater resources in their local communities. Our focus is on turning education into action for a sustainable future.
Making Meaningful Connections
Our approach is rooted in making meaningful connections. We help students bridge the gap between the ocean and freshwater systems while understanding the global context. This holistic perspective aligns with Global Citizenship, Reconciliation Education, and Education for Sustainable Development (ESD) principles. It empowers students to become responsible, informed, and active global citizens.
Together, we are dedicated to inspiring the next generation of ocean stewards who will champion a sustainable future for Earth's precious water systems.
Benefits for School Communities
Offerings & Opportunities
2023/24 School Year
The Giant Floor Map (GFM) Program
The Ocean, Freshwater and Us giant floor map is an immersive instructional tool that invites learners of all ages to physically engage with and explore Canada's ocean and freshwater systems. For educators teaching middle-high school students, integrated classroom workshops deepen students' understanding and engagement. At school community events, self-directed exploration enables learners to dive deeper into the subject matter at their own pace.
Augmented reality features, provide immersive experiences shedding light on conservation efforts and fostering interactive learning moments. Educators can integrate the map into their unit plans with a teacher's guide featuring adaptable learning pathways. 
Contact us to learn more about the GFM program or to explore how we can co-create a customized learning experience for your class!
Live Early Career Learning Series

Join our monthly 2023-2024 live learning series in partnership with Exploring by the Seat of your Pants and Early Career Ocean Professionals (ECOP) Canada, where young ocean professionals, both national and international, share insights about their work. 
Upcoming presentation: Storytelling to save the oceans with Rosie Poirier
October 16th @ 1:00pm eastern
BSC-Community of Practice (CoP)
Our BSC-CoP is a dynamic hub, uniting educators to exchange experiences and discover best practices for incorporating marine and freshwater themes in their classroom practice. This mindful space cultivates creative and practical innovation by bridging the learning experience with the broader world; and in a lifelong learning context of a new blue curriculum.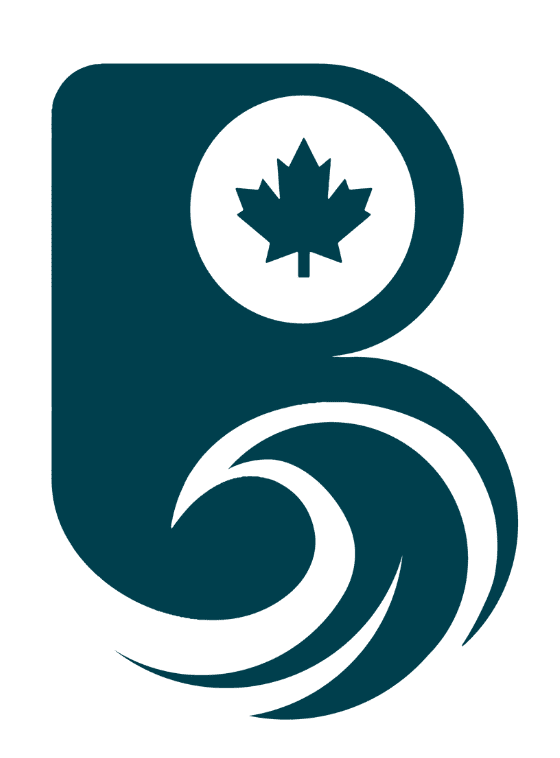 Blue Schools Experiential Learning Grant
Our Blue Schools Experiential Learning Grant offers funding through applications to help cover costs associated with field studies, excursions, and hands-on blue learning activities (such as water quality testing, river/coastline clean-up, ocean expert speakers, aquarium visits, canoe building, etc.). The call for grant applications will launch November 1, 2023 and remain open until January 31, 2024.
Ready to connect with the Blue Schools Canada community?
Please take 5 minutes to complete this brief registration form.
Teachers have the option to sign up for a single class, a few classes, or the entire school at no cost.
After completing the registration process, a representative from our team will reach out to you to verify your membership.
Lastly, we encourage you to share your school's new BSC membership status on social media by including the hashtag #BlueSchoolsCA and tagging @CANoceanlitCO on Twitter (X).
BSC Ocean Education Resources